hardcover journal printing
Views: 62 Update date: Feb 28,2023
Hardcover journal printing typically involves a process called case binding, where the pages of the journal are sewn together and then attached to a hardcover made of cardboard or a similar material. Here are the basic steps involved in hardcover journal printing:
Design: Create a design for your journal cover, spine, and interior pages. You may also need to choose paper types and weights.

Printing: Print the interior pages of your journal on a high-quality paper stock. This can be done using a digital or offset printing process.

Binding: Bind the pages together using a sewn binding process. This involves folding the pages and sewing them together in small groups called signatures.

Case making: Create the hardcover by cutting and folding a cardboard or similar material to the right size, then covering it with your chosen material, such as book cloth or leather.

Case binding: Glue the sewn pages into the case, and attach the endpapers to the inside of the cover.

Finishing: Add any final touches, such as foil stamping or embossing, to the cover and spine.
There are many printing companies that offer hardcover journal printing services. When choosing a printer, consider factors such as quality, price, turnaround time, and customer service. It's also a good idea to ask for samples of previous work to get an idea of the quality of their printing and binding.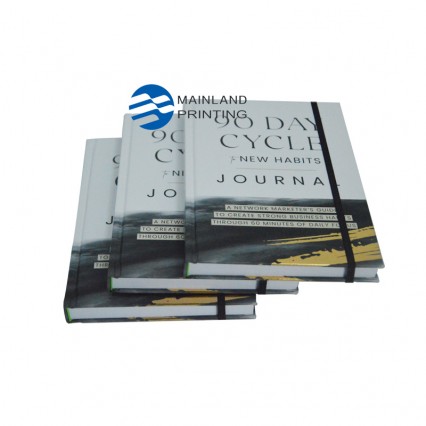 Shenzhen Mainland Printing Co.,Ltd is one of
book printing companies
located in China,
which can provide a wide range of
book
printing services
, such as
childrens book printing
,
art book printing
,
magazine printing
,
photography book printing
,
comic book printing
,
notebook printing
and so on paper products .