how to print your own board book
Views: 226 Update date: Feb 10,2023
Printing your own board book can be done in a few steps:
Choose a printer: There are a number of online printing companies that specialize in book printing, including BookBaby, CreateSpace, and Lulu. Choose a printer that offers the option to print board books and compare prices, turnaround times, and quality.

Prepare your book file: The printer will require a digital file of your book, which should be formatted and ready for printing. You will need to ensure that your file is in the correct format, such as PDF or JPG, and that it meets the printer's specifications for resolution, color mode, and margins.

Choose book specifications: When ordering your board book, you will need to choose the size, number of pages, and cover material. Board books are typically smaller and sturdier than traditional books, with a thickness of about 1/16 inch. You may also need to choose a binding type, such as perfect bound or saddle stitch.

Place your order: Once you have chosen your printer, book specifications, and have uploaded your book file, you can place your order. Be sure to review the proof provided by the printer carefully to ensure that your book is correct before printing begins.

Receive your book: After printing, the book will be shipped to you. You may have the option to have your book sent directly to your customers if you are selling it.
Printing your own board book is a cost-effective option if you have the technical skills to prepare your book file and the equipment to print it. However, if you are looking for a professional-quality book, it may be best to work with an experienced printer or book designer to ensure the best results.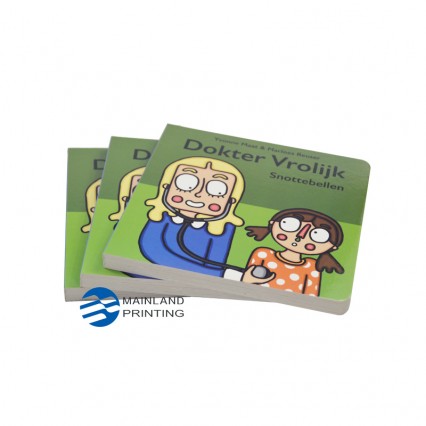 Children Board Book Printing Services

cost to print
a board book
The cost to print a board book will vary depending on several factors, including:
Printer: Different online printing companies have different pricing models and may charge different amounts for the same service. Some printers may offer a lower cost per book but have higher setup fees, while others may have lower setup fees but a higher cost per book.
Quantity: Printing a single board book may be more expensive than printing a larger quantity. Some printers offer discounts for larger orders, so if you plan to print multiple copies, you may save money by ordering more books at once.
Book specifications: The size, number of pages, cover material, and binding type of your book will also impact the cost. For example, a larger book with a glossy cover and perfect binding will likely be more expensive than a smaller book with a matte cover and saddle stitch binding.
Shipping and handling: The cost of shipping and handling will depend on the printer and your location. Some printers may offer free shipping or discounted shipping for orders over a certain amount.
As a rough estimate, the cost to print a single board book can range from $5 to $30, with an average cost of around $10 to $15 per book. To get an accurate estimate, it is best to obtain quotes from multiple printers and compare the costs and options available.